Apart from bike and tread, the peloton offers access to a comprehensive workouts library where you either use your own body weight or minimum equipment like dumbbells or yoga blocks. However, does the peloton use kettlebells?
In general, peloton doesn't use kettlebells in their workouts. However, you can still use kettlebells in some of the strength or Bootcamp classes. Most of the exercises from those classes can be performed with kettlebells, as long as you choose the right weight.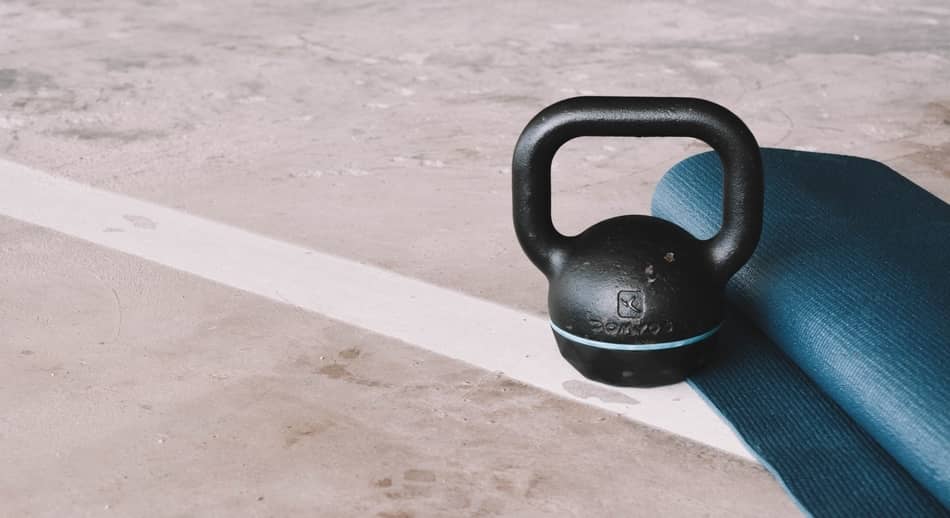 I always use kettlebells instead of dumbbells simply because it feels more comfortable and is better for my joints. Keep reading if you want to know more about how to marry kettlebell training with peloton classes.
Peloton Classes With Kettlebells
Doing peloton classes with kettlebells requires a bit of creativity and mindfulness. Some exercises simply cannot be done with the kettlebells, but you can always find a good alternative on the go.
Can you use kettlebells with peloton classes? In general, you can use kettlebells with peloton classes as a substitute for dumbbells, especially in strength classes. Certain exercises like squats, shoulder presses, or snatches can be done with the kettlebell. However, some moves like renegade pushups can only be done with dumbbells.
What is renegade pushup? A renegade pushup is a modification of pushup where you grab and hold two dumbbells and place them on the floor. Instead of keeping hands flat on the floor, you fist hold the weights and do the pushups. After each rep, you pull the dumbbell up as you would row.
Here is the sample tutorial.
As you can see, it is very difficult to perform this exercise with a kettlebell.
This means you need to be mindful about how you exercise. I personally love to use kettlebells because of their simplicity. You can do a full-body workout using a single kettlebell in the comfort of your home.
How To Use Kettlebells With Peloton
To use the kettlebells with peloton all you need is either one heavier or two lightweight kettlebells. As you follow the class instruction, for every exercise that comes with the weights you can grab and use a kettlebell instead.
Here are some examples of how to substitute dumbbells with kettlebells.
Goblet squats or goblet lunges require you to hold the weight with both hands in front of your chest. Here you can use kettlebll without any problems by the handle.
Bend over rowing forces you to slighlty bend forward keeping your back straight and row with one hand at the time. This can be easily done with the kettlebell, as long as you match the weight.
Biceps curl with both dumbbells is little bit more challneging because you need two peices of weights. However, with the kettlebell you can easily grab a heavier weight and do the curls holding the bell by its handle.
Chest flies on the floor with dumbbells won't cut it with just one kettlebell. You you can do kettlebells pull over instead where you grab a kettlebell with both hands and slowly bing it over your head.
Overhead press with dumbbels can be modified with kettlebell. However, if you only have one piece of weight it will require you to do one side after another.
Here is an example of how you can use kettlebells instead of dumbbells.
As you can see, almost any exercise that you do with a dumbbell can be modified with a kettlebell, even if you only have one.
Learn more: Click here to learn more about "does peloton have rowing classes?"
Will Peloton Offer Kettlebell Classes?
In general, there is no information on will peloton offer kettlebell classes. As of now, the only weight equipment company uses are dumbbells. Lately, since December 2020 the peloton app has received over 20 pilates classes, so maybe in the nearest future, they will add kettlebell workouts.
From my experience, kettlebell training is a little bit more complex than dumbbell training. The shape of the dumbbells makes them easy to control and hold. With the kettlebells, you need some level of body awareness to fully control the kettlebell as it moves.
Because of the uneven center of gravity, the kettlebells are more complex to work with are require more time to get used to. On the other hand, the dumbbells have evenly redistributed weight, with makes them relatively easy to use.
Is It Safe To Use Kettlebell In Peloton Classes?
In general, it is safe to use a kettlebell in the peloton classes, as long as it has the same weight as the dumbbells. You can get dumbbells with any weight, however, the kettlebells are only available in certain sizes. The smallest kettlebell is 5 pounds.
If you haven't used kettlebells I would recommend sticking to dumbbells. However, if you're already familiar with the kettlebells and you're wondering should you get a new pair of dumbbells for your peloton workout, I strongly recommend doing the classes with your kettlebell.
Learn more: Click here to learn more about "peloton outdoor running for beginners"
Conclusion
You can easily substitute dumbbells in peloton classes with kettlebells. If you already have a couple of bells there is no need to getting a new pair. Plus, with kettlebells, you can go beyond just the peloton workout.
If you want to learn more about how to use kettlebells for strength or cardio, check out my article "kettlebell swings for cardio", where I give you 7 excellent training ideas.