Zumba is one of the most trendy fitness classes worldwide a workout that blends many Latin American dance moves. Peloton is a leader in home group fitness classes.
Today I will clarify why you won't find Zumba on the peloton app, and (most importantly) what you can do instead (even if you have two left feet.)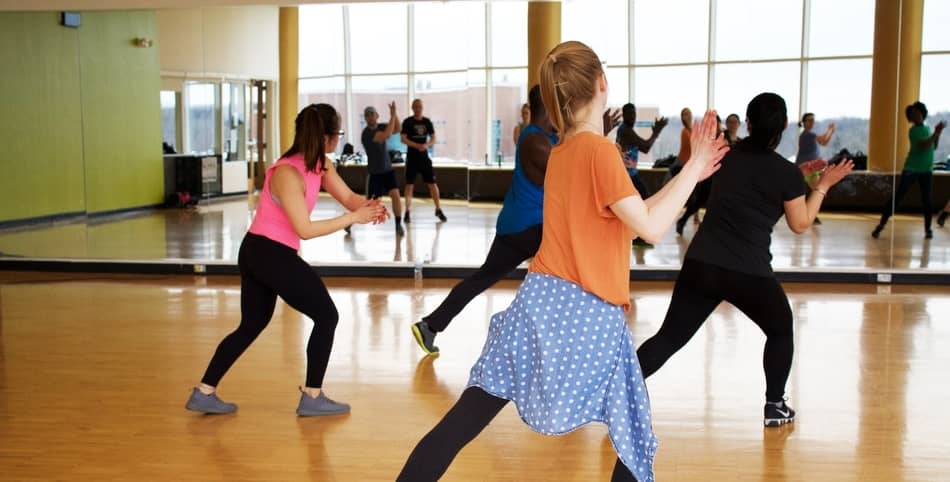 In general, peloton doesn't have Zumba classes because Zumba is a registered trademark, which can only be licensed. This means the peloton cannot conduct official Zumba classes without fees and permission. However, Peloton does offer cardio dance classes.
Overview
Zumba is a fitness program that involves cardio and Latin-inspired dance moves like salsa, and merengue.
This dance class has taken the world since the early 2000s when you could see tons of late-night infomercials and marketing campaign advertising this new fitness craze.
Today, I honestly don't hear anyone raving anymore about going to the Zumba class. I guess that how fitness trends end up, some stay and some go.
Peloton doesn't do Zumba
One of the reasons why Peloton does not do Zumba classes is becasue of the licence fees.
The Zumba trademark is the intellectual property that belongs to Zumba Fitness, LLC, and everyone who wants to stream their workouts have to pay a license fee.
(Now, I'm not a law or legal expert, so I don't know what would be the actual cost for the Peloton, but I'm guessing it would not be cheap.)
Without their license, you cannot use "Zumba" in any of the products. Just like Peloton rides cannot be called Spinning classes, or strength classes cannot be called BodyPump.
These companies have registered copyright to their name and using the name without a license will end up in violations and hard fees.
Zumba class vs Peloton class
Doing a Zumba class in the local gym is totally different than streaming it from the Peloton app.
Zumba class
The gym doesn't require a license for scheduling the Zumba class, but the instructor needs to be certified and registered.
The certification runs around $300 – $400 and it has to be renowned every year.
The music used in the Zumba classes needs to be licensed. This means Zumba produces its own music and instructors need to pay a license fee to use it.
Without the license, you cannot play copyrighted music in front of a group. And if the instructor plays any random music in the class, that's illegal too.
Peloton class
This is a series of classes that involve a lot of aerobics moves.
The classes are similar to Zumba because they incorporate the classic choreography of dance steps using arms and legs, single-single-double, and more.
The music that you hear during the peloton classes is licensed to use, and the peloton has to pay either for every session or a full year, depending on the contract.
To find the dance classes on your peloton app you need to go to the cardio section and select filter. From there, scroll down and choose the "dance cardio" workouts.
I personally think that dance classes are a great option if you're using peloton with family, or with groups of friends who don't mind being silly on the dancefloor.
Benefits
There are multiple benefits from doing an occasional dance class, beyond burning extra calories.
Improves recovery
I and my wife love to do one dance cardio class once every 1-2 weeks. This works as an alternative for active recovery if I don't feel like doing some of the peloton recovery classes on the bike.
On the rest days, adding low-intensity movement can resuce muscle soreness and get you ready for your next big ride.
Stimulates neuroplasticity
I'm a big science geek, and I love to read about neuroplasticity.
"Challenging and physically demanding dance program can be an effective alternative to counteract detrimental effects of aging on the brain," says Kathrin Rehfeld, an accomplished researcher from Germany and author of over 34 publications.
"Dancing enhances left prefrontal cortex activity that leads to better memory, neurocognitive function, and sense of achievement," says Dr. Rehfeld.
Better balance
Dance cardio classes are awesome tools, especially for the older generation. It helps to improve balance and coordination.
That's why I've added this workout to the peloton for seniors list, which I recommend you read.
It can be done anywhere
You can stream dance workouts anywhere.
Similar to strength, HIIT cardio, and other peloton classes without a bike, for dance cardio, all you need is an app and a pair of tennis shoes.
What Are The Peloton Cardio Classes Like?
In general, the peloton cardio classes are fun and energizing.
In a nutshell.
The full class lasts 20 minutes and they also have 5-minute warm-up and cooldown sessions.
There are 12 20-minute dance sessions, however, the peloton didn't add more classes for a long time.
For whatever reason (probably poor adherence) the peloton didn't expand on the cardio dance classes library since November 2021.
Compared to other categories like cycling or strength, dance cardio is not the most popular choice.
However, it seems like recently peloton added 7 new dance cardio classes since Cody featured in the Dancing with the Stars 2021.
Peloton dance is fun
In general, Zumba classes are not available on the Peloton digital app.
However, you can find almost 20 cardio dance classes. Those classes are fun and energizing.
This is not something you want to do as your main workout, but it's a great way to add variety or spend time on your recovery day.
Especially if you're getting bored with your routine, I would definitively recommend getting out of your comfort zone and trying something different.
Peloton dance is for everyone
Listen.
I'm a big guy, and honestly, I feel embarrassed when I do any dance classes. But at the same time, I love to be out of my comfort zone.
And I've noticed that something as simple as dancing massively improves my self-esteem. Not because I'm getting good at it (obviously not).
But because I did something that I didn't think I could do. Just like public speaking, approaching a stranger in the bar, or going solo backpacking.
The same is with the dance classes.
The more you do it, the more confident you will be.
Even if you've never done it before, or you think you're not a vivid dancer.
Instructors
As a whole, the only peloton instructors who do choreography are Rebecca, Jess, Hannah, and Ally in their cardio dance classes. The choreography is simple and it's based on the basic dance moves.
Which classes to take
The peloton does only offer 18 cardio dance classes. The class duration varies between 5 to 20 minutes and is usually hosted by a few instructors at the same time.
The class difficulty runs from 3.3 to 6.4, which is mainly determined by the complexity of the moves.
Here are the best Peloton dance classes.
1. Dance Cardio with Rebecca and Jess
The 20 minutes dance cardio class with Rebecca and Jess is a mixture of Latin and house moves.
It also has the combination of higher-intensity moves like jumping jacks and some low-impact stuff like step touch.
2. Dance Cardio with Hannah and Ally
This class is a mix of basic aerobic and hip hop moves. If you like old-school hi-lo aerobic classes, this is the most equivalent class you can find.
The intensity is low but it's more about fun and doing the class with your friends and family, rather than burning calories.
3. Dance Cardio with Jess and Rebecca
I think this is my favorite class because it doesn't require any complexity in the moves. Class if for all levels of fitness.
The girls start each choreography move with a slow sequence and you double the speed together with the beat.
Peloton has over 18 Dance cardio classes in its workout library that teach you some basic choreography movements.
Conclusion
Peloton doesn't offer Zumba classes, however, it has some choice of cardio dancing sessions that uses choreography and aerobic style moves.
As of now, there are a limited number of dance classes, and from what I can tell, the peloton does not add any more classes.