Last Friday I went on a trip to visit my local peloton showroom. In this article, I will give you 9 reasons why you should visit the peloton showroom in person before buying your bike.
As a whole, the peloton has over 148 showrooms located across 6 different countries including the United States, Canada, Australia, Germany, England, and Scotland. The peloton flagship store has 35,000-square-foot and is located at Brookfield's Manhattan West.
I will also touch on other things that you can (and what you cannot) buy in their stores.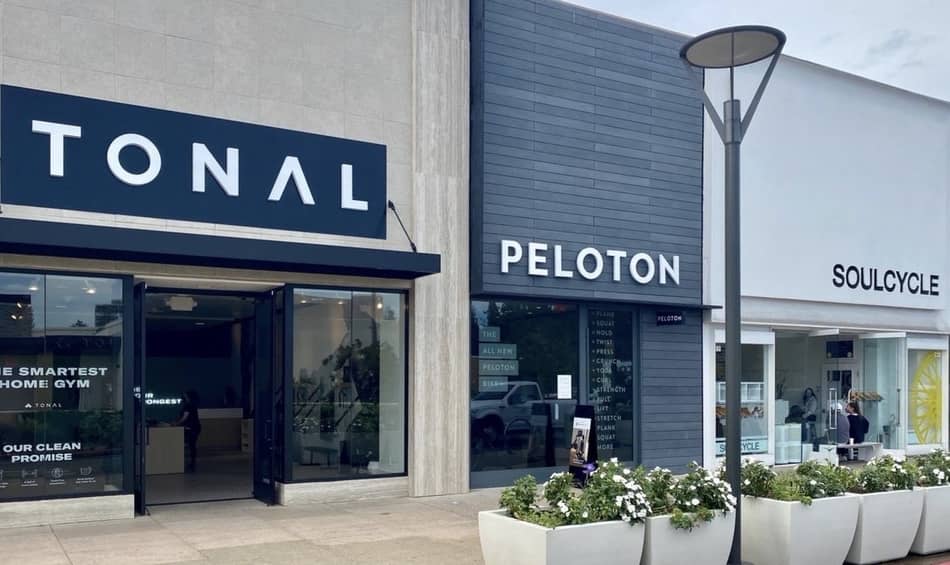 What Is Peloton Showroom
As a whole, the peloton showroom is the physical store where you can book an appointment for your tests ride, whenever that's on the bike or tread. The peloton showrooms are usually located in the busy shopping centers and are open 7 days a week.
According to Tim Shannehan, the Chief Sales Officer & Managing Director for North America, "the peloton showrooms are designed not only for sales, but also to experience a variety of class content, try on apparel, and interact with the Peloton community".
How many peloton showrooms are there? As of the beginning of 2022, the peloton has 84 showrooms located in the United States and 9 located in Canada. Outside of North America, the peloton is most popular in the UK (25 showrooms in England and 2 in Scotland), Germany (over 20 stores), and Australia (5 stores).
First time I've visited the peloton showroom I've spent almost a full hour on the bike to make sure I get into grips with all the features.
Peloton Showroom Vs Online
The difference between buying peloton online and in the showroom is that visiting the store in person gives you the opportunity to test ride the bike, compare different products, try cycling shoes and apparel.
Plus, you have more time to ask the store manager any questions.
Also, keep in mind that people who work in the store do get a commission, so every bike they sell helps to support your local community.
On the other hand, buying the Peloton bike online shave off the advantage of trying the bike, wearing the shoes, or getting to know the equipment before you own it.
What Do You Do At The Peloton Showroom?
In general, there are several things you can do at the peloton showroom that includes trying the bike, meeting with other members, or even celebrating your milestone rides.
Also, peloton showrooms organize and host regular events where you can meet your favorite instructors face to face.
Here are 9 reasons why you should visit your local peloton showroom.
#1 Get Your Bike Delivered Faster
As a whole, you can get your bike delivered faster when you order it directly from the peloton showroom. People who order peloton via store can even receive their bike before scheduled delivery, whereas people who order online can often get their delivery rescheduled.
I ordered my bike online and didn't have a great experience with the delivery.
On the other hand, I have some clients who visited the peloton showroom to get their bikes and told me they had a much smoother time with delivery.
#2 Take a Class
In general, you can ride a bike or run on the tread at the peloton showroom as long as you book a walkthrough appointment in advance. For this appointment, you can bring your workout gear and join the class directly from the store.
I think taking a class before buying the bike in the store is a great opportunity to test the product, compare the bikes, and even ask questions if needed.
Honestly, I didn't do live classes from the peloton showroom (I haven't been brave enough) but every time I'm there, I see someone doing the classes.
#3 Celebrate Milestone Ride
Overall, you can celebrate milestone rides from the peloton showrooms or studios. The showroom ride is free, but you need to book your session in advance. People who do their century ride in the peloton store not only receive their usual century shirt but also get a century club pin with the peloton logo.
That is fun because for the riders not only do you get shout-out and congratulations from the store staff but also they give away bags of goodies after you finish.
Also, if you have already passed your 100th ride and didn't receive the pin, just visit your local showroom and they will give it to you.
Please remember that some of the showrooms are more generous about giving them out than others.
#4 Buy a Bike
Overall, you can buy a Peloton bike or tread directly from the store, however, the store doesn't allow you to pick up the bike. After you decide to buy a peloton, the store manager will help you with the paperwork and set up an appointment window for delivery.
Also, if you have any questions that aren't likely answered on the online blogs or forums, the sales rep in the store will assist you and help you decide what is the best choice for you.
When I was ordering my peloton bike+ I needed to visit the store because none of the online information could replicate the actual physical assessment between the bike and bike+.
If you are on the fence about which bike to get, I strongly recommend getting into the showroom and booking a test ride before.
#5 Get Personalized Fitting
In general, you can get personalized fitting recommendations that include adjusting the seat height, length, and angle. Also, the peloton showroom has several skilled sales associates who can help you to ensure your cleats on the shoes are fitted correctly.
Incorrect bike fitting is one of the main reasons for problems like back or knee pain due to biomechanical restriction. Visiting the showroom in advance ensures you have a better understanding of how to set up your bike correctly.
On the other hand, when you buy a Peloton bike online, you don't have much support available, apart from the delivery team (who are usually on a tight schedule).
After I returned home from the peloton showroom in Coral Gables and adjusted my bike to the sales rep recommendation it has been a game-changer. Not only my output has increased but also my knees don't hurt anymore. Best customer service experience ever.
#6 Get Peloton Shoes
One of the biggest concerns of people buying peloton online is shoe sizing. Peloton bike has SPD SL pedals, which means you have to wear special cycling shoes.
Can you buy peloton shoes in the store? As a whole, you can buy peloton shoes in the store. All of the peloton showrooms offer a full selection of shoe sizes. Also, the sales representative will assist you on how to correctly position and attach the cleats on the bottom of the shoes.
Of course, if you're an experienced rider, you will have no problem getting your shoes sorted. However, if that's your first time wearing cycling shoes, I recommend going to the showroom and asking for advice from the sales team.
#7 Get Peloton Apparel
It's not a secret that Peloton is placing a lot of emphasis on its retail and apparel sales. However, they have declined to say how much of that revenue came from apparel sales.
What I love about peloton apparel is you get great quality products because they have a collaborative approach to partnerships with other brands like Adidas, Rhone, Lululemon, Vuori, and Solfire.
This means it's not just about slapping the logo on the clothes.
Do peloton showrooms sell apparel? As a whole, the peloton showrooms sell apparel, however, not all of the stores have the newest collection as you can find online. The best showrooms for clothes shopping are in New York Manhattan, Houston, and Long Beach.
For all new arrivals is best to visit the peloton apparel website.
Apart from the clothes, you can also get many accessories like hats, bags, backpacks, bracelets, and water bottles.
#8 Get Peloton Accessories
As a whole, the peloton showrooms do sell exercise equipment and accessories like resistance bands, workout mats, dumbbells, and yoga blocks. Most of these accessories are required for off-the-bike workouts like strength, yoga, or pilates.
Not only that.
The peloton store also has other equipment like heart rate monitors, which you need if you want to use the heart rate zone training and enable strive score.
You can learn more about "peloton heart rate monitor" in my article here.
Plus, in the store, you can also buy most of the replacement parts like shoe cleats, pedals, and touchscreen.
Do peloton showrooms sell toe cages? In general, the peloton showrooms do not sell toe cages, however, you can contact the peloton online support team to arrange delivery.
#9 Meet Instructors Face-to-Face
Some of the peloton showrooms regularly throw events like parties and panels, where you can meet fellow community members, as well as meet your favorite instructors face to face.
The last time I was in one of the peloton stores, one of the members was celebrating her birthday, which I thought was cool to do so on the bike.
Of course, some stores will likely organize such events more often than others.
Conclusion
Peloton showroom is just a fancy name for the retail store where you can test the bike or tread before deciding to buy it. Plus, you can also purchase several other products, which include things like shoes, clothes, weights, resistance bands, and more.
As you can see, if you come in person into the peloton showroom, you make sure that not only do you get what you need, but also it opens the opportunity to meet other like-minded people.